Welcome to an interview with Michael Steven Ford! This interview was conducted by Victor Cirone with illustrations created by Michael.
Victor: Tell us a little bit about yourself!
Michael: I've been involved in the herbal community and have been working with herbal medicine for about 31 years now. It was 30 years ago that I took an apprentice program with Rosemary Gladstar in Vermont and then went on to start my own herb company – Apollo Herbs – manufacturing various herbal products and providing wholesale services to health food stores in the New England area. Then I went back to school and started studying the science of herbalism and earned degrees in botany and in pharmacognosy, which is a graduate program in pharmacy school that deals with natural product chemistry. I was there from 1998 – 2004 in the graduate program, and then I began teaching. I had been teaching herbalist apprentice programs throughout college, but in the end I ran about a dozen or more herbalist apprentice programs in the Rhode Island area, which is where I'm from originally. I later moved out to California and began taking all of the research that I did in graduate school and turning it into a book. In the book, I go through the plant families one by one, exploring various plants that have healing or nutritional or pharmaceutical value, explaining the trends in their chemistry. I'm also illustrating these plants and the molecular structures.

What can you tell us about the illustrations? They are quite striking and unique. There are not many herbalists that are creating work of this kind.
M: I forgot to mention, before I met Rosemary and studied herbalism I had been studying illustration at Rhode Island School of Design. I was going to school for illustration in the beginning, and then my whole course of study changed. Now I've come back and I'm tying it all together. I'm taking all of the botany and the pharmacognosy and the phytochemistry and trying to bring it to life in a way that honors the spiritual side of healing and of nature. I've chosen to do it in the style reminiscent of medieval illuminated manuscripts, of which there are many. These illuminated manuscripts tell stories, usually of a saint, or explore other religious motifs. I've been removing all of the characters and instead putting in all of the herbs, and then complementing the background with the molecules from their phytochemistry. At times, I've been putting in fairy spirits or different magical kind of images, but again in order to evoke the feeling of the spirit and essence of the plants. What I'm trying to do is to tie modern chemistry and science into that by implying that the spirits of the plants, or the essence of these plants, imparts its healing and nutrition and value to us through its chemistry. This is, of course, true, even if we are working in a holistic manner; it's nice to know why certain things work, how they work, how to quantify the strength of something. The science does have a value, although I think that in modern society it has been greatly exploited.
There's definitely a strong, almost alchemical resonance and quality to your illustrations. Can you say a little bit more about the traditions that you have been inspired by? Is there anything else that you can share about the tradition of the illuminated manuscript for those who are unfamiliar with such work?
M: I don't know that my journey has been very traditional, it just kind of happened because of my various hobbies and interests and educational pursuits. I had learned the material and then when I was in the graduate program I had to put together a large study guide to learn all of the plants of the various families and their chemistry for my exams. I turned that research into a book later, which I never would have done otherwise. The idea of illustrating it relates to the fact that enough people are intimidated by the chemistry and the science so I wanted to make it seem more inviting and more fun, and show that there is an alchemical component to working with plants, nature, and medicine. The pharmacognosy that I have been studying is where modern-day pharmacy derived from, a lot if it anyways.
The traditions that used these plants often involved shamanism of some sort. I went to Peru in 2002 and studied with some Peruvian natives who were teaching shamanism to Americans. We did a couple of years of study. We needed to study with them before they let us go down and meet their teachers because they wanted to condition us to their culture – or uncondition us from our own culture, rather. When I was there, one of the old medicine men told me that he thought it was important that I honor my ancestors. I was into that, but I had never done it. When I came home I started researching my genealogy and trying to find out whom my ancestors were. Ultimately, that led me to writing a whole book about it, and I started illustrating the ancestors. I had inherited a lot of old photos, and so I began creating illuminations around my ancestors. I drew pictures that looked like medieval illuminations, but I put all the pictures of my ancestors in, creating something to honour each of the lineages that I had. Later, that gave me the idea to remove the images of the people – instead of it being my family, let's make it a plant family. I started doing each one of the illustrations about one plant family, though in some cases I've done an order, because some plant families only have a couple of medicinal plants and I've been doing 15 plants in each one of these pieces. I've been working on them for a little more than a year now, and I've done 13 of them so far.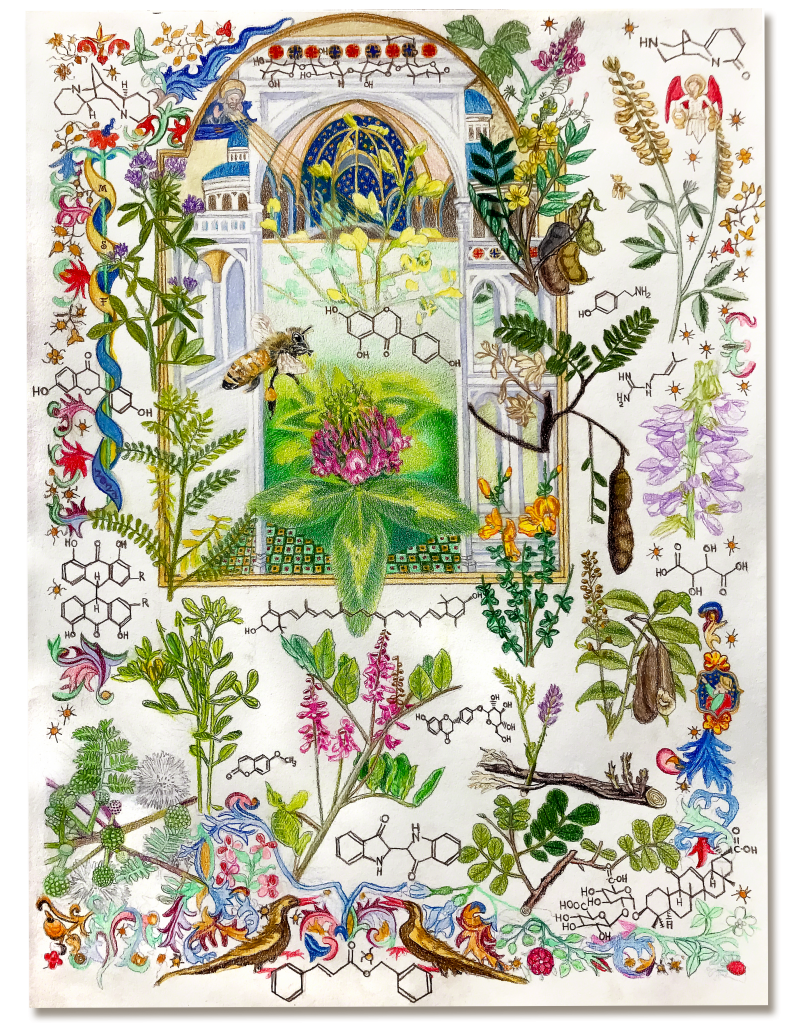 I've been doing this during the pandemic as a way to keep myself focused, it's been a great refresher for me, too, because I've had to go back and look at all of the botany again and make sure that I'm drawing it anatomically correct, and looking at the chemical structures and making sure that I didn't make any mistakes drawing them into the designs. I know that not everybody wants to learn this material, but if you are interested, learning visually is a good way to do it, especially when you start to associate chemical compounds with the plants that they are naturally found in. There's not a lot of language associated with what I'm doing – it's mostly symbolism and visual learning. The symbolism of chemistry and its molecules is universal in the world, even though there are some letters in there like 'O' for oxygen and 'N' for nitrogen. The rest of it is all imagery. Maybe some day there will be a need to preserve the visual component of which plants are in which families containing which compounds – I think that is kind of what I'm doing. Not that this information isn't out there. I'm just putting it together in a new format because I have the ability to do it, I've spent a lot of time learning this knowledge, and now by putting it into a book, I can help other people to learn it, too.
You've mentioned that many people encounter difficulties when trying to study and deeply understand phytochemistry and its relevance to herbal practice. Perhaps you can say something about why you feel phytochemistry is important to the contemporary practitioner?
M: I think it's a great tool; the chemistry is a very valuable tool for us to better understand and work with the plants. Especially when it comes to the solubility of what you are trying to extract from an herb. If you understand the basics of what type of compound, and how it would be classified, and what the basic actions are, and then looking at the basic polarity and solubility, you would know whether you could extract it with alcohol, oil, water, or glycerin – we're not allowed to use other solvents, in pharmacognosy we had to use a lot of other things that I would rather not have used! It really helps to know if something requires Everclear to extract it because it has a lot of various fatty acid compounds or cholesterol or other very lipophilic compounds that extract well with organic solvents. And then there's the sugars – if you're making an immune formula that has a lot of polysaccharides that are complex sugars that stimulate the immune system, then hot water is sometimes sufficient depending on what plants you are using, and what you are trying to extract. Oftentimes there is a mixture within the plant, and that's the reason that 50% water and 50% alcohol seems to work well – not that it's a magic ratio or anything, but that 1:1 ratio does work for a lot of herbal extracts, because its right in the middle. Likewise, I am also very interested in essential oils and hydrosols. I got involved with cosmetic formulation and manufacturing for a while. It's the same thing, just using it for a different purpose – in terms of getting plant extracts and manufacturing products with them – which led me to teaching more about it.

What can you tell us about the book? Does it have a title yet?
M: I'm planning on calling it 'Illuminated Phytochemistry.' I've created a cover for the book – the cover has the mint family on it and I put some of the menthanes and various terpenes that are in that family on here. That was one of the very first ones that I drew. Like I said, I'm on the 12th or 13th illustration. I'm working on the Mallow family right now. I've done the Orchid family, the Apiaceae, Rosaceae, Fabaceae, Asteraceae and Solanaceae [Nightshade] family, to name a few, but I mean there's hundreds of families, so its unrealistic to think that I can illustrate them all in a reasonable amount of time, which is why I'm just choosing the ones that are of healing, medicinal, nutritional, and/or cosmetic interest. I think it is valuable to organize this information in this way so that you can quickly look at a plant family and see which plants are closely related, and how they are related chemically, so if you didn't have one plant available, you might be able to substitute it with another plant, or you could see which plants you could extract together because they might have similar solubility or action. This is far from folk herbalism, what I'm doing, since I've organized it using the scientific tradition. But I'm really hoping to blend the two. With the art, to use the right side of the brain to teach more left-brain material. I can be very left-brained, but I can be very right-brained, too. It just depends on what I'm focused on at the moment. I think that we can all do that; we just have to believe in ourselves to do it.
We are all conditioned in certain ways and have tendencies towards certain kinds of activities, but the potential for both right – and left – brained activity is always already there, it just depends on the circumstances we find ourselves in and how our minds get awakened.
M: Finding the right teacher can be really important, because sometimes somebody presents this sort of material in a way that is really inspiring to others, as well as in a clear way. You also have to be willing to do the work. When you are getting involved on this level, there is a certain amount of discipline that just comes with the territory, as in running a lab or approaching taxonomy or phytochemistry – these are disciplines that you have to study before you're allowed to do certain work, there are prerequisites involved. I've taken a lot of this material out into the public to teach people who don't have those prerequisites. In some cases it can be intimidating, but other times it really makes people say 'wow, that's cool' and 'I wish I knew more' or 'I want to learn more', and those are the people I've worked with over the years.
What about the text that is going to accompany the illustrations?
M: The coloured illuminations that I'm doing, I don't have the publisher yet, so I can't say if they will all be in the center of the book or will appear as chapter heads for each section. I will probably go from simple to more advanced, starting with the monocots and going to the dicots and ending with the aster family, which is the way that most of the botanical texts go. I might put the illuminated image at the front of the chapter for each corresponding plant family, and then have the text, and then have smaller illustrations of e.g. the shape of a leaf or other types of botanical illustrations that will help people learn the plants. It's not just about phytochemistry – its bridging botany and phytochemistry together for the purpose of healing arts.
We are trying to compile a contemporary history of herbal medicine at Everything Herbal, and we are asking various people to share their experiences with the evolution of the herbal medicine world as they've experienced it.
M: It's changed a lot since I got involved. I've been involved for the last 30 years – big business got involved over that time period. When I first started my herbal company in 1991 there weren't the regulations in place that there are today. The 'good manufacturing practices' are more stringent now than what companies were doing back at that time. Much of it has to do with sterility, cleanliness, proper identification, record keeping, making sure you have good procedures for extracting and preparing your products. They want the products to be good quality, and there are good reasons for those things to be in place. We are now dealing with a corporate, multi-billion dollar global industry. I'm concerned about the plant populations and I'm hoping that they aren't going to be exploited too much, where we start losing various species of plants due to overharvesting or environmental damage. I saw that – I was one of the earlier members of the United Plant Savers because I was studying with Rosemary Gladstar when they formed that group; they were meeting up at Sage Mountain when I was still a student. There are a lot more organizations today dedicated to conservation, more educational opportunities, and the preservation of the knowledge – including support for indigenous knowledge and indigenous cultures. There is more respect for diversity in general. Lately I've seen politics becoming involved too, and people getting upset. I've just tried to stay out of that to the best of my ability although I really hope that we can all learn to just get along and respect each other. That's what the whole human race needs. That's such an understatement!
Herbal medicine has also been so viciously attacked by the allopathic establishment…
M: I remember when I was pharmacy school everyone was very skeptical of me there at first. The allopathic environment was not pro-holistic. I gave a graduate seminar on the use of hallucinogenic compounds from plants for psychological and psychiatric research and they nearly laughed me out of the room. Now it's a hot research topic. But 20 years ago, they just weren't ready for it. All that research started in the 60s, it's not anything new, but they were just closed-minded to it. This has to do with international patenting laws, what is deemed a drug and what is not, and all the regulations around all of that. I like to point out that the word 'drug' comes from the old Dutch word drogge which means 'dried plant'.
What are some of the directions that you'd like to see herbal medicine move into?
M: I think it has moved a lot, I don't know that I'm the right person to say what it should be for other people, but I would like to see it more accepted by science as something valid. I'd like to see the scientists have a more diverse approach, where they can incorporate nutrition, herbs, as well as allopathic medicine and various types of physical treatments into their practices. I think we are moving in that direction. I don't think the insurance companies are ready to jump behind it, and go along with it as part of standard practice, though. I guess it depends on where you are and who you are working with. I'm surprised to see, still, the amount of resistance that is out there from some people. But it's not my place to judge. They have a lot better marketing programs – the pharmaceutical companies.
Maybe you'd like to talk about your interest in psychoactive plants. It is a topic that can be quite polarizing – you have some herbalists that are strongly opposed to the use of psychoactive and entheogenic plants and other herbalists that totally embrace and are very excited by the potentials behind such usage.
M: I can clearly see that there's a polarity there. I don't see any reason why these plants can't be used, at least experimentally as medicines, when we have allopathic medicines that have all sorts of bad side-effects and that people are supposed to stay on for long periods of time. Some of the shamanic techniques that are being tapped into are helping to release trauma through using these types of compounds. There was often some kind of ceremony or ritual, someone observing a person to ensure their safety, and done in a context of working under somebody who was experienced and knowledgeable. We're not talking about someone who wings it, because then they are risking the possibility of things going wrong. I don't want to say one way or the other – I don't have a problem with people using these plants traditionally, but I don't want to sound like an advocate either.
It depends on the individual and their need for therapy. I understand that it goes beyond that – there's a whole culture of people who have used these things for other purposes, going back to the hippies and the 60's and the Grateful Dead & psychedelic rock… I'm not even old enough to have been around for that, though I appreciate the music. People are going to use various substances whether they are allowed to or not. It is better to be safe about it, and perhaps if there was more education available… I don't want to sound too idealistic in my thinking. I think it's a shame that there's so much drug abuse in our culture. We should be looking at why people are engaging in this kind of behaviour. Instead of blaming the drugs, let's look at the definite social and cultural issues that are lying at the root of this behaviour. Let's learn to use the compounds and plants more intelligently. I hope that someday we have a system that is more conducive to that, more accepting of that.

It's interesting to observe the contemporary psychologists and psychiatrists who are using psychoactive plants and compounds in a therapeutic context. Some of them are doing interesting work, but it's always within the confines of the psychiatric model. Definite limitations are set: we'll allow you to experiment, but only if you are doing so within our officially sanctioned framework. Forget about traditional use, they're not interested in traditional use. There is the traditional medical pharmaceutical model, which is open to very minor modifications, and that's what you have to exist within if you are to be granted any kind of legitimacy.
M: The medical field tends to do that, to compartmentalize in that way. I'm not saying it's the only way to approach it, but if you were going to investigate, there are maybe other ways, such as working with indigenous peoples and finding healers who are educated, and who can assist people with the use of these plants. There's always a potential for someone to have a bad trip or to harvest the wrong plant or take too much of something and have a bad reaction, and you don't want that to happen. This work certainly has the tendency to bring up people's traumas, and if they have traumas and haven't healed them, then there's a chance that they might be triggered.
What do you feel herbal medicine has to do with understanding ecology and sustainability? Can you share some thoughts about the relation of herbal medicine to ecology generally?
M: I think that herbalism is one big part of our survival skills as a species and it's probably the oldest, or one of the oldest, of such skills. And because of that it evolved a lot differently than lot of other systems that are operating now. A lot of the way things are operating now, in broader context, is based on corruption, a corruption of science, with the aim of trying to create global monopolies, which they have done. Humanity needs to live in balance with nature, it would certainly behoove us to, and herbal medicine is a huge part of that. It is very important that we preserve these traditions, that we continue learning and researching, and that we teach our children and grandchildren, and the future generations. That is a constant, that has always been the case, but even more so now because we have so many competitive fields that are against what it is that we are doing. It is all the more important for us to preserve what we have, updating it, and passing it forward. I hope that the future generations can use all of this as a key to living in harmony with nature and figuring out the various health problems of humans and animals. There is so much potential, it's just a matter of getting enough of our collective attention focused on that potential. The people around the world are pretty united – a lot of people use plants, all over the world. That kind of a movement can be supported. It's already there, but it's an underground movement. I just don't want to see it become further exploited into some kind of unappreciated resource that does even more harm to the planet.
Then it becomes a vicious cycle, the deeper the patterns and cycles of dissociation humans end up falling into the greater and more difficult are the perils we have to face in the long term. It's one big self-defeating cycle. It can be said that the disease process often develops as a way of pointing out what the error is in our way of being in the world, disease as a means of making you as an individual aware of what you need to change or shift in your life. When you suppress that information either in an individual body or in the context of a larger ecological matrix, then you are simply creating an even more chronic, long-standing condition that is even more difficult to cure.
M: I agree. I would like to see the system less profit-oriented, too. I'm in no place to make that happen. It's a shame that things have to be all about money when we are working with curing diseases.
Anything else you'd like to discuss or share?
M: I am going to be producing a website, I'm going to be selling botanical prints and some of the art I've been creating outside of publishing it outside of the book. There have been a lot of requests for posters, t-shirts. I have been posting the images on my Facebook page as I've been creating them, so I will likewise be posting more information regarding that.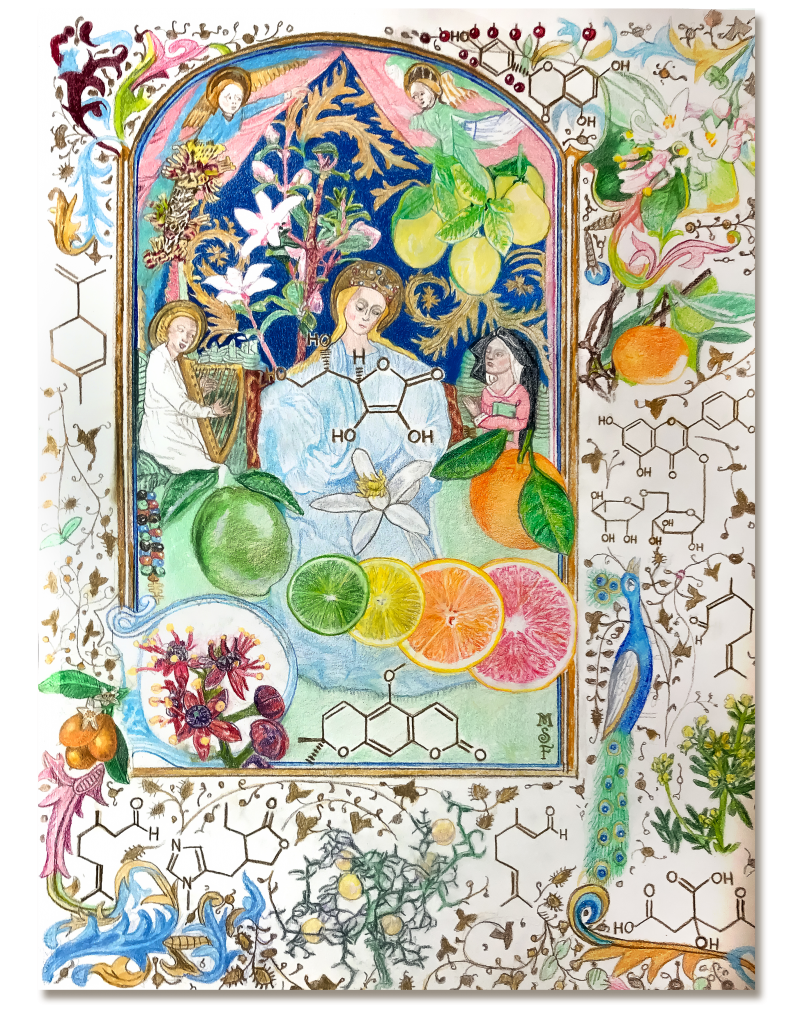 If you would like to check out more of Michael's work and follow the journey of his book, you can find him on Pintrest.
---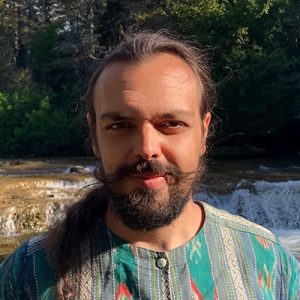 I am a Clinical Herbalist (RH, OHA) and Registered Homeopath (HOM DSHM, College of Homeopaths of Ontario). I practice Herbal medicine and Homeopathy because of the immense transformative powers that these modalities contain – both on individual and collective levels of experience. In addition to holistic medicine, I have deep and abiding interests in Anthroposophy, Psychoanalysis, and Depth Psychology.
All author posts
Subscribe to Blog via Email