September 16th, 2023!
A herbal gathering celebrating healers, herbalists, and plant lovers; starting from the ground up, connecting with ourselves, plants and nature!
Join us for a joyful fun day of learning, sharing, ceremony and entertainment!
Regular Admission: $225 plus HST
Where:  The Ginkgo Tree/Kina Gegoo Botanical Sanctuary, Cannington, Ontario
When: September 16th, 2023: 9am to 9pm, rain or shine!
Keynote Speaker: Rosemary Gladstar
Meals: A light lunch and dinner. All the delicious meals are homemade, vegetarian, with gluten and dairy free options. There will also be a tea bar open throughout the day.
SPONSORS:  Everything Herbal, The Ginkgo Tree, Faunus Herbs and Richter's Herbs

Registration Coming Soon!
Welcome to Back To Your Roots Herbal Gathering!
Back To Your Roots (BTYR for short!) is a full day of lectures, workshops, herb walks and foraging alongside live music and performances. Our event is located approximately one hour north of Toronto, at The Ginkgo Tree/Kina Gegoo Botanical Sanctuary.
Registration includes a light lunch and dinner with freshly made, farm to table organic, vegetarian meals with vegan options, including all day organic tea and freshly roasted organic coffee at the Tea Bar.
Apart from a day filled with renowned guest speakers and hands on workshops, local vendors will also be offering their wares and services throughout the day. If you would like to sign up for a vendor booth, head to the bottom of this page for vendor registration info!
Since 2012, Back to Your Roots has brought together budding healers, herbalists, and plant lovers to share their wisdom of herbs, spiritual connection, natural healing, foraging, stewardship and gardening. Though the emphasis at Back to Your Roots is on health, healing and well-being, we are far more than an educational event. This retreat is a joyful celebration of spirit and wisdom, as well as a special time of honouring the Earth and her plant rich being. All are welcome! Come with an open heart, a willingness to share, learn, and celebrate together.
Begin the day with a herb walk and end with a fire dance!
---
Keynote Speaker:
Rosemary Gladstar
World–renowned teacher and Herbalist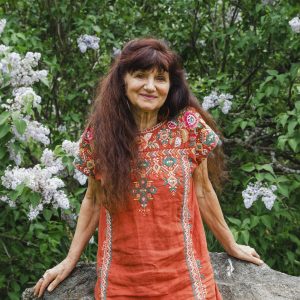 Rosemary Gladstar is internationally renowned for her technical knowledge and stewardship in the global herbalist community. She has been learning, teaching and writing about herbs for over 40 years. Rosemary is the author of twelve books and director of The Science and Art of Herbalism, an in-depth home study course with thousands of students enrolled across the globe.
In addition to her classes and books, Rosemary is known for her outreach and advocacy as a voice for the plants. Rosemary has coined, named, and popularized several common herbal remedies such as "Fire Cider" that have become part of the modern herbalist's medicine kit. Rosemary has defended these traditional medicines against corporate trademark all the way to Federal Court to ensure access for future generations.
Rosemary is also the Founding President of United Plant Savers, an organization dedicated to medicinal plant conservation, and past director of the New England Women's Conference and the International Herb Symposium. Rosemary was the co-founder and original formulator of Traditional Medicinal Tea Company.
---
Lecture title and description coming soon!
---
---
Lauri Hoeg
Traditional Herbalist
Laurie Hoeg is a proud member of the Chippewas of Georgina Island First Nation where she lives and works in her studio by the water called "Eagles in the East". She considers herself creatively inspired or "in spirit" and makes space in her life to honour that gift through art and herbal medicines.
Lauri has completed large woodland inspired commissions throughout the region that teach about our spiritual connection to the land. Lauri holds a degree in public administration and governance from Toronto Metropolitan University and works in the areas of First Nation culture, education, and governance. She currently sits as the Indigenous Trustee for the York Region District School Board and participates in truth and reconciliation projects throughout the region.
Anishinaabe Circle and Ceremony
In this workshop participants will sit in circle and receive stories and teachings building understanding of Anishinaabe world view. The workshop will end with a ceremony offering our sacred gift of tobacco. Coming together in ceremony creates connection to Spirit, the land, and to one another like nothing else can.
---
---
Jan Beaver
Teacher and Storyteller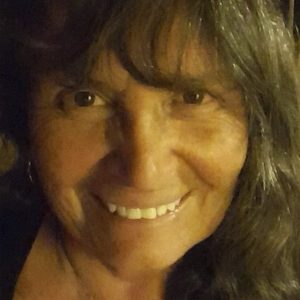 Jan Beaver is a member of the Alderville First Nation (Anishinaabe) and has dedicated most of her life to learning and teaching others about the history, traditions, and cultures of First Nation peoples. She is also a storyteller, an educational consultant and the author of several children's graphic novels and history books focussed on Indigenous themes.
Jan worked as a Water Scientist with the Ontario Ministry of the Environment for almost 20 years before becoming a classroom teacher then an Outdoor Education Teacher with the Toronto District School Board for the next 15 years. Jan was seconded to work with the Elementary Teachers' Federation of Ontario on Aboriginal Education policy and initiatives to educate teachers and support Indigenous students in schools across Ontario through her work on various Aboriginal Education Committees at the Provincial, National and Global levels.
Before retiring in 2010, Jan was the Senior Education Advisor for Ogemawahj Tribal Council in Rama working with 6 member First Nation communities in southern Ontario. Jan is a proud recipient of the Queen Elizabeth II Golden Jubilee Medal in recognition of her work in education. ​
Lecture Description:
Anishinaabe Circle and Ceremony
In this workshop participants will sit in circle and receive stories and teachings building understanding of Anishinaabe world view. The workshop will end with a ceremony offering our sacred gift of tobacco. Coming together in ceremony creates connection to Spirit, the land, and to one another like nothing else can.
---
---
Steven Martyn
Traditional Herbalist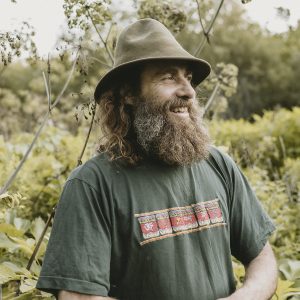 M.A. (traditional plant use), B.F.A. honours, artist, farmer, wildcrafter, builder, teacher, writer, visionary. Steven has more than thirty years experience living co-creatively with the Earth, practicing traditional living skills of growing food, building and healing. Steven created Livingstone & Greenbloom in 1986, Toronto's first green landscaping company.
In 1996, he created the Algonquin Tea Company, North America's premiere bioregional tea company. He has given talks and run workshops internationally for more than twenty years and taught plant identification and wilderness skills at Algonquin college for 11 years, and at the Orphan Wisdom School for eight years. In 2014, Megan and Steven started the Sacred Gardener Earth Wisdom School. Steven released his first book The Story of the Madawaska Forest Garden in 2016, Sacred Gardening in June 2017 and The Roundhouse in 2022.
---
Lecture title and description coming soon!
---
---
Correne Omland
Community Herbalist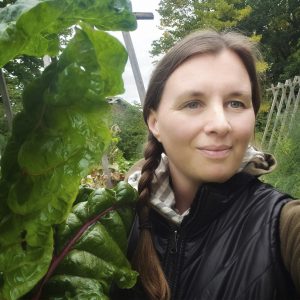 Correne is a clinically trained herbalist, herbal educator and homesteader based out of Kawartha Lakes. Her clinical practices focus on bringing true health and wellness to her clients through addressing all aspects of healing; physical, emotional and mental. Correne is passionate about herbal education and shares this knowledge through her membership community, Weavers of Plant Wisdom, as well as her YouTube channel and blog. She also co-operates a membership community called My Grounded Home, dedicated to helping brand new budding homesteaders on their journey towards self sufficiency.
---
Lecture title and description coming soon!
---
---
Pat Crocker
Culinary Herbalist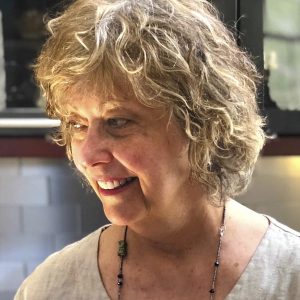 As a professional Home Economist (BAA, Ryerson U., Toronto) and Culinary Herbalist, Pat's passion for healthy food is fused with her knowledge and love of herbs. She has honed her herb practice over more than four decades of growing, studying, photographing, experimenting with, and writing about what she calls, the helping plants. In fact, Crocker marries the medicinal benefits of herbs in every original recipe she develops. Pat has written 22 herb/healthy cookbooks, including The Healing Herbs Cookbook, The Juicing Bible, and most recently, The Herbalist's Kitchen (Sterling, 2018) and Healing Cannabis Edibles. Watch for her next book, Cooking and Healing with Cannabis to be launched in 2020.
---
Lecture title and description coming soon!
---
---
Penelope Beaudrow
Registered Herbalist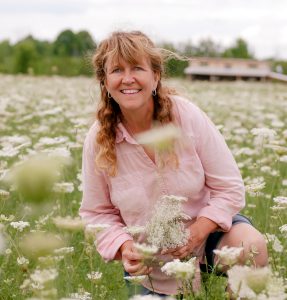 Penelope Beaudrow is a Registered Herbalist who has devoted the past 25 years to helping others foster deep and resilient connections with the living intelligence of the natural world and the regenerative, healing forces of plants and the medicine they carry. Penelope earned her Diploma in Herbal Medicine from Dominion Herbal College. She serves as Vice President at Faunus Herbs. She is also deeply engaged in in the field of herbal education, including in depth work with the Association for the Advancement of Restorative Medicine and The Ginkgo Tree Herbal Course. Penelope is deeply concerned with regenerative ecology as an integral component of the health and wellbeing of the earth and all of its inhabitants. She works diligently to reintroduce a wide variety of native, at risk and endangered plants at her sanctuary and farmstead and is engaged in significant re-wilding efforts.
The work that Penelope is engaged in every day aims to lay the foundations for a verdant, thriving, and viable future that upholds and works alongside the brilliance of nature. The path of earth stewardship has as its goal harmony, health and the peaceful coexistence for all beings. The transformations that Penelope has, and continues to witness through her careful and patient partnership with the green world have far exceeded her hopes and expectations; when the plants begin to speak, it's always best to listen, for the marvels that will unfold are sure to be beyond our wildest dreams.
Website: Home – The Ginkgo Tree
Facebook: The Ginkgo Tree | Facebook
Instagram: The Ginkgo Tree (@ginkgothetree)
---
Lecture title and description coming soon!
---
---
Victor Cirone
Registered Herbalist and Homeopath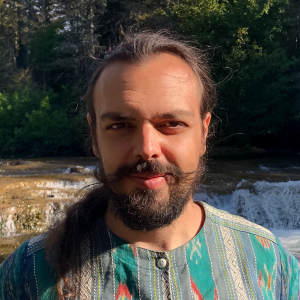 I am a Registered Homeopath and Clinical Herbalist based on Manitoulin Island, Ontario. I practice Homeopathy and Herbal Medicine because of the immense transformative powers that these healing modalities contain – both on individual and collective levels of experience.
I value direct experience, careful and attentive observation, and always strive to engage with my patients in a way that is authentic and deeply healing. I employ a range of medicines in my practice to suit the needs of the individual in their journey towards wholeness.
In addition to homeopathy and herbal medicine, I have an extensive background in Jungian/Archetypal psychology, Psychoanalysis, Anthroposophy, and the esoteric and symbolic dimensions of the healing arts more broadly.
---
Lecture title and description coming soon!
---
---
Laura Gilmour
Herbalist and Forager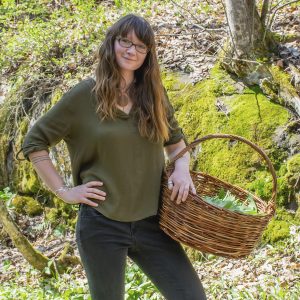 Laura Gilmour is a forager, herbalist, and business owner living near Dwight, Ontario. Her rural upbringing allowed her to develop a natural curiosity and passion for nature from a young age. Laura formally studied ecology, and later went on to pursue sustainable living by apprenticing on several Permaculture farms and studying with a number of herbalists. Laura has a passion for naturalist studies, homesteading, and traditional living skills that connect us to our food and the land in the most human of ways. Laura runs Wild Muskoka Botanicals, which produces artisan wild foods and cocktail products. It exists to reconnect people with the natural world and to promote wellness and fun by incorporating wild plants back into people's modern lives. She also teaches foraging and herbal medicine classes in the Muskoka area from an animist and relationship-based perspective.
---
Lecture title and description coming soon!
---
---
Abrah Arneson
Registered Herbalist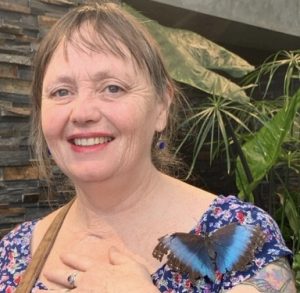 For most people there is an essential question in their life. This question is their beacon during times of transformation. Some would even say this question is their karma. Abrah's question is:
How can the intoxicating beauty of life co-exist with depth of despair suffering life can bring?
This question has led Abrah to work in hospice supporting the dying, train as doula to hold women in their labour, travel to all continents on this planet and spend a year in retreat in the Yukon wilderness. Abrah's practice of herbal medicine, she has been practicing for 15 years, has nourished this question and deepened her understanding of transformation from illness to health, from despair to hope and from disconnection to connection. Her experience with plant medicine has taught her many times that a single plant is much more than a remedy of a physical illness. Plant medicine sooths physical wounds, mends broken hearts and opens minds to the wonder of life. Abrah is the author of The Herbal Apprentice: Plant Medicine and The Human Being and the Herbal Apprentice Workbook. And currently runs a herbal clinic in Ottawa, Ontario and is available for distant consultation via Zoom. Abrah offers an herbal apprentice program in the Gatineau in Quebec.
Website: Home – Abrah Arneson (abraherbs.com)
Facebook: Abrah Herbalist in the Woods | Facebook
---
Lecture title and description coming soon!
---
Michael Vertolli
Registered Herbalist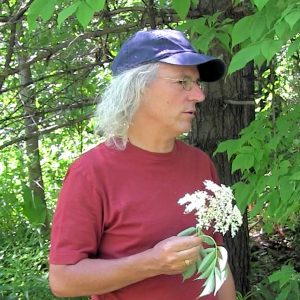 Michael is a Western traditional herbalist who has been practicing since 1986. He is the founder and director of Living Earth School of Herbalism, which offers in-class and online classes and workshops and a clinical diploma program in Western herbal medicine.
Michael developed Four Elements Herbal Therapy, a system of Western herbalism that integrates the physiological approach of modern European and North American traditions of herbalism within the broader holistic and spiritual paradigm of traditional earth-centred healing traditions. He has also done extensive research on medicinal herbs that are native to and naturalized in northeastern North America, many of which are no longer in common use.
Michael has long been an advocate for herbs and the practice of herbalism. In the 1990s he was appointed by the federal Minister of Health as a member of the Advisory Panel on Natural Health Products and the Office of Natural Health Products Transition Team. He has served on the boards of directors of many practitioner and industry associations and is and is a past director and president of the Ontario Herbalists Association and the Canadian Council of Herbalist Associations.
Website: www.livingearthschool.ca
Blog: www.michaelvertolli.blogspot.ca
---
Lecture title and description coming soon!
---
---
Monika Ghent
Registered Herbalist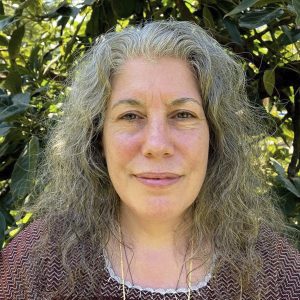 Monika Ghent is a Traditional Healer, Distance Healer, herbalist, and teacher who offers Traditional Healing and other forms of nature-based healing in her practice in Maple, Ontario, and to anyone in the world through Distance Healing. She has a school of herbalism with her husband Michael Vertolli (Living Earth School of Herbalism) which offers certificate and diploma programs in Western herbalism and related fields of study, general interest workshops, and online classes.
Monika's journey as healer, teacher, and human has been a long and circuitous one full of wonder, surprises, struggles, and blessings. She is grateful to spirit and to her friends, teachers, and mentors (human or otherwise) who have led her to where she is now, guided by an inner fire towards further learning, healing, understanding, inspiration, connection, and communion with this beautiful earth and all who she is blessed to share time with. She is an advocate of being in respectful relationship with the Divine Natural World and all living beings. Through her work, she supports people in awakening to the beauty of their uniqueness and living their highest expression of self in joy, health, and wholeness.
Website: www.monikaghent.ca
---
Lecture title and description coming soon!
---
---
Tamara Segal
Registered Herbalist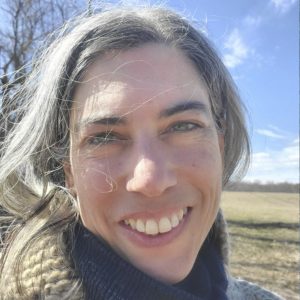 Tamara Segal runs an herbal medicine practice and teaches classes at her farm in Prince Edward County, ON (traditional Mowhawk, Haudnesaunee and Wendat territory).
She cultivates wild spaces on her beloved land, where she harvests most of the medicines used in her practice. She also guides wild plant identification walks and land rewilding consultations around her region.
You can learn more about Tamara and her work at hawthornherbals.com
---
Lecture title and description coming soon!
---
---
Matthias and Andrea Reisen
Herbalists and Farmers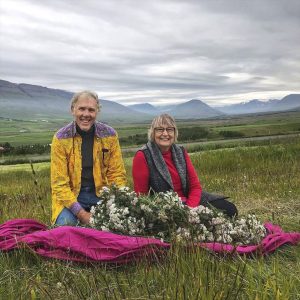 Growing and harvesting herbs is a multifaceted process. We take into careful consideration the seasons, weather, soil quality, and even the energetic health of our land and water. After harvest we properly dry, process and package our herbs to ensure our products are the highest quality. The same integrity is brought to our mushroom products that people have come to expect from our herbs. As more people come in contact with beautiful high quality, regionally produced herbs, the market for these herbs has grown. The Reisen's feel that there is a real need for small farms dedicated to quality, service and environmental sustainability.
Andrea and Matthias have been growing herbs for over 30 years and have been stewards of their land for over 45 years.
www.healingspiritsherbfarm.com
---
Lecture title and description coming soon!
---
---
Margaret Lloyd
Artist and Nature Enthusiast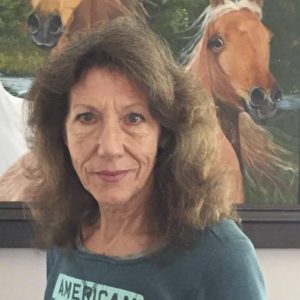 Maggie lives in Hanover, Ontario with her husband David, two horses Nell and Amigo, her dog Lucy and Della the Princess Cat.
Maggie developed a passion for deeper communication with animals when she renewed her love for horses after all four children had left the nest. Maggie took a course in animal communication and a whole new world opened. One that she will share with you and encourage everyone to experience. Maggie has communicated with both living and passed animals from Cats to Parrots. Also, she has had some enlightening communications with people.
Maggie believes there is a dimension to life that is inviting everyone to enter and understand so the world will be enriched.
---
Lecture title and description coming soon!
---
---
Marianne Beacon
Registered Herbalist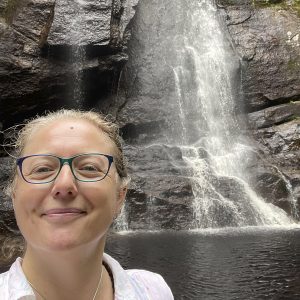 Marianne Beacon is a Registered Herbalist, in professional practice as a Clinical Herbalist since 2008 and as a Bowen Therapist since 2002. She also practices Reiki at the Master level. Her training in these fields go back as far as the early 90's.
Nestled in the heart of Peterborough in the Charlotte Mews, Elderberry Clinic offers the opportunity for individuals to use these modalities to address their health concerns. Marianne is fully engaged in this practice, from growing and wildcrafting herbs, to making herbal products, to consulting with clients and teaching.
She has a special interest in preparing Spagyric tinctures, and maintains a full apothecary. Marianne teaches herbalism, Bowen Therapy and Reiki. Marianne approaches her practice with heart, and the breadth of decades of experience.
Website: www.elderberryclinic.ca
---
Lecture title and description coming soon!
---
---
Julie Ditta
Intuitive reader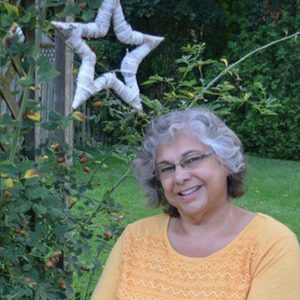 Julie is the proprietor of Whole Soul, a practice dedicated to psychic and spiritual experience. Julie is an intuitive reader and medium, ceremony maker and spiritual healer. Julie is a trained drum circle facilitator, teaches recreational African drumming and is a member of "Dare to Drum" music collective. Julie facilitates a variety of local drum circles as well as the Peterborough Woman's Circle. She instructs drumming privately and at both the Whitby and Bowmanville senior centres.
Julie teaches classes and workshops on meditation, psychic development, improv, sound therapy and diva dancing.
Julie is a Hawaii Reiki Master, certified in Therapeutic Touch and Relaxation Therapy. She offers intuitive Tea Leaf and Palm readings and receives messages from loved ones who have passed over. When Julie is not drumming, meditating or facilitating, she can be found at the euchre table! Website: www.wholesoul.ca
---
Lecture title and description coming soon!
---
---
Red Tent
Come join Dayna and Sasha in the Red Tent.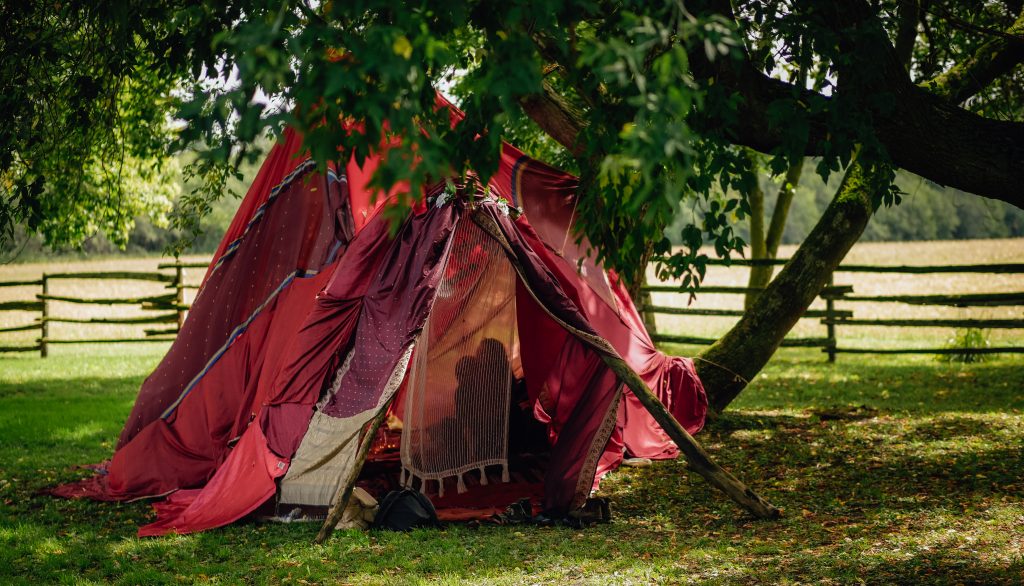 "Red tent" means many things to many people. It can be a space to honour the menstruation cycle, a gathering place for women, a place to take care, a workshop space. The red tent that we have created here today is a meant to be a supportive space, open to people of all genders and ages. It is a space curated to empower the healing and nurturing qualities of the divine feminine through stories, songs and ceremony. We share our narratives and songs to weave together the threads that connect us, promoting the overall health of our communities.
In tending to this sacred space, we encourage everyone joining us to revel in laughter and joy as teachers as much as we hold space for our teachers, sadness or anger. Come sit with Dayna and Sasha, sing, laugh, and listen to our collective stories.
---
---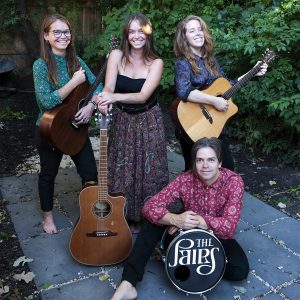 Back again for an Encore!
Family is what ties The Pairs together. With soaring harmonies, they share stories of life's hope, hilarity, and hardship. An honest, quirky stage presence and their unbottled chemistry, quickly connects them with their audience. The line between the stage and the crowd becomes blurred as if we've all pulled up a seat around their family's lively kitchen table. Powered by three classically trained vocalists and a former punk rock drummer, The Pairs offer a unique blend of music that will hug your eardrums and inspire you to dance.
Find out more: thepairsmusic.com
–
---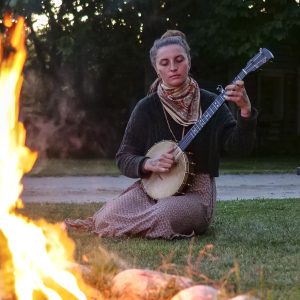 Dayna Pirso is a musician rooted in folk traditions, history, story and song. As a banjo player and percussionist, she has shared music in houses, bars, folk festivals, and on street corners. She shares music that she has been taught from many people during her experiences hitch hiking across the country and travelling in the United States. Performing old time, ragtime and Americana music on her banjo, Dayna Pirso delivers every song with charm and a genuine respect for the tradition of song.
Dayna's Music: Bandcamp
–
---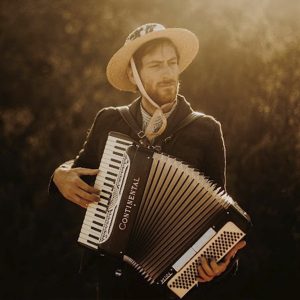 Alexander Jones is a folk musician and artist. His interest in traditional skills and healing has led to his apprenticeship with Penny Beaudrow. When he is not touring or travelling, Alexander splits his time between his home in Texas and in Canada.
–
---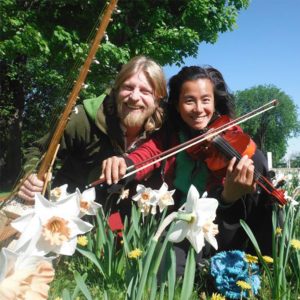 Eric is a Producer, Composer, Multi-Instrumentalist, Instrument Maker, Visionary, World traveler, Founder of "Mandala World Music"; an international ethnic fusion world music group with people from all around the world. His focus is to bring sacred styles of art and instrument together for a new fusion in this multi-cultural world.
When performing he uses live looping & plays over 100 ethnic and modern instruments from around the world with his Electronica Production. He sings in Universal Language mixing ancient tongues and ethnic styles of vocals with modern sound scat poetry. He builds & plays African harps like the Kora & Kamale N'goni.
–
---
A big thank you to our wonderful sponsors who make it possible for us to put on this retreat. Please support them by visiting, purchasing and passing their information along to others. Thank you!
---
Registration and Vendor Registration
Tickets are now on sale for the 2023 Back To Your Roots Herbal Retreat!
All regular registrations include; attendance to all lectures (including key note speakers), workshops, festivities, snacks, tea and coffee bar, light lunch and dinner. (Does not include the two Herb Walks with Rosemary)

Registration Coming Soon!
Pricing:
Regular registration: $225 plus HST
The Ginkgo Tree Herb Course Students: $50 off Registration fee
BTYR Work Study (See Work Study info below): $80 plus HST

Vendors (registration for 1 person) + 1 Vendor space. See Vendor info below): $150 plus HST

Vendors (registration for 2 people) + 1 Vendor space. See Vendor info below): $230 plus HST

Herbwalk with Rosemary Gladstar: $25 plus HST
Vendor Information
Vending at Back To Your Roots is a great way to introduce your business to a large group of plant loving people. We welcome vendors looking to sell plants, herbs, herbal products, art, jewellery, clothing, and more. Our vending space fills up fast, so register today!
Prime time to sell is during registration, meal times, in-between workshops, and in the early evening.

In order to be a vendor at Back To Your Roots you must also be a participant.

Please note that the internet is not to be relied up for mobile transaction apps.

Vendors are responsible for the safety of their wares and money.
Vendor Registration
1 person booth space: $150 plus HST (includes 1 regular registration [value of $225], meals & snacks, and vendor space fee)
2 person booth space $230 plus HST (includes 2 regular registrations [value of $450], meals & snacks, and vendor space fee)
---
Set Up and Tear Down:
Set up: 8:00am – 8:30am
Tear down: 7:00pm
*By registering vendors agree to have their space set up no later than 9am, and to not take down their booths before 7pm.
Parking will be available close to the vendor area. No cars are allowed to block or stop in the lane.
To register by email to our BTYR Vendor Coordinator, Chealsea, at chelsealise@gmail.com ~ Subject line: BTYR Vendor
Required Vendor Registration information:
Name

Company Name

Address

Email

Phone

Description of Booth Wares
Work Study Registration
If you are hardworking, energetic, responsible and enjoy working 'behind the scenes', you are invited to join our Back To Your Roots (BTYR) Work Study Team. Become one of our worker bees and help make the retreat hum along smoothly. This is a great opportunity to be of help and service as we work together to create an amazing and rejuvenating retreat for all.
BTYR Work Study Team is responsible for numerous jobs that help make the day run smoothly. Tasks are assigned equally and fairly to all and include:
Set up and clean up for the conference (this is a physical work-trade position with some strenuous components)
Conference registration and information booth
Vendor set-up/clean up
Signage
Equipment
Monitoring workshops and intensives
Tea Bar
Lunch and dinner (help prepare, serve and clean up)
There are sure to be additional tasks that will need immediate attention, so flexibility is greatly appreciated. Most of our tasks are accomplished before and after the conference and still leave time for participating in many of the classes during the conference.
All Work Study are expected to stay until the end of the retreat, all work is completed, and Evelyn gives permission to leave. This is generally around 9:30 p.m. but can be earlier or later depending on the year.  With some Work Study Folks coming the day before to set up and some Work Study Folks staying the next morning to help clean up.
---
What we offer our Work Study Team & What is Expected in Return
In exchange for joining our BTYR Work Study Team, we offer a special registration fee of only $80 plus HST, which includes everything included in regular admission, including a light lunch and dinner (regular ticket price $225 plus HST).
Positions are divided into two shifts. Each Work Study participant must be available; either: Friday morning at 11:00am (set up) and Saturday 8:00am – 9:30pm (event) or Saturday 8:00am – 9:30pm (event) and Sunday morning approx till noon (tear down). Be prepared to work 7 – 10 hours over the course of the event. All Work Study participants must take part in a zoom orientation, which will be held prior to our event. All Work Study participants signed up for the Friday and Saturday shift must be at the farm by no later than 11:00am on Friday, September 15th, in order to begin orientation promptly and begin your designated task(s). Please note: If you're unable to commit to either of these durations, unfortunately you will be unable to participate in our Work Study program.
As part of the Work Study Team, you may select in advance, two (2) workshops that you have your heart set on attending. We will do our best to work your weekend responsibilities around one of those classes. There is ample free time to attend additional workshops, too.
Work Study Meals at BTYR: We are providing all Work Study participants a light, lunch and dinner on Saturday, including all day Tea Bar.
Because we depend on our Work Study Team, as a measure of your commitment, we request the Work Study registration fee of $80 plus HST paid in advance. We are unable to hold your space until your registration and payment is received. Registrations are taken in order of receipt until the 15 Work Study positions are filled.
We look forward to connecting with all of the amazing participants who are considering joining the BTYR Work Study Team and help make Back To Your Roots an especially amazing and rejuvenating retreat.
To register, email to our BTYR Work Study Coordinator, Evelyn at hello@theginkgotree.ca ~ Subject line: BTYR Work Study
Required Work Study Registration information:
Name
Address
Email
Phone
My heart is set on Attending: Workshop #1
My heart is set on Attending: Workshop #2
Contact us
Please feel free to contact us if you have a question or concern about the event:
---
Founder and Event Organizer:
Penelope Beaudrow
Event Co Ordinator:
Evelyn Mueller
Assistant Event Co Ordinator:
Chelsea Vierra
Assistant Organizer, Photographer, Webmaster, Graphic Design:
Serena
---