Who We Are
Behind Everything Herbal stands a team of dedicated professionals with combined lifetimes of experience in the diverse and inclusive fields of botanical medicine, herbal education, herb farming, wild-crafting, and medicine making.
Our Roots
Those of us here at Everything Herbal have deep and established roots in these areas, and share extensive first hand experience of working as practitioners and purveyors of herbal medicine, herb growers and compounders, as well as mentoring, supporting, coaching, and guiding allied healthcare providers in the use of premium quality herbal products. We are deeply established in every aspect of herbal medicine, from field to bottle, and are here to highlight and support herbal medicine in Canada and abroad.
Here at Everything Herbal we are not afraid to get our hands dirty. We know that purveyors of premium quality medicines must be intimate with the plants, must be able to walk into a field and make sure that the soil is good and to look at a plant and understand when its medicinal virtues are at their peak. What sets us apart is that we are not simply concerned with the end result of an herbal product or formula, but also with all the work that goes into making it. Trustworthiness, authenticity, sincerity, ecological restoration and conservation stand at the centre of our work. Giving back always comes before taking.
Our Mindset
We call ourselves Everything Herbal because the breadth and depth of our experience really does cover it all. At the heart of the work that we do stands a deep connection, reverence and respect for the earth. Everything Herbal is about practicing herbal medicine as a complete lifestyle, embracing the plant path as a worldview that informs and guides all aspects of our being. The herbal medicine that we practice is founded in the interdependence that exists between, human beings and the plant world. We recognize that our own well being, as individuals and as a collective, is inseparable from the well being of the planet. We understand this insight to be the starting place of truly sustainable, ethically practiced and sourced herbal medicine.
Our commitment to ethics is reflected in how we treat our patients, colleagues, and customers. At Everything Herbal, you will find down to earth sensible advice, without any of the gimmicks that have become all too pervasive in the world of commerce and industry. Our ambitions include supporting local farmers and ethical wild-crafters, teachers, practitioners, students, and patients.
Everything Herbal is a movement that is all about taking care of ourselves in the best ways that we can. Everything Herbal is a movement oriented around building strong, resourceful, prosperous, and resilient communities for us all.
Our Commitment
Our first commitment is, and always will be, upholding healing traditions that stretch back to the very beginnings of human culture, and nurturing the living human heritage of plant medicine. Whether we know it or not, we are all connected to, and dependent upon, these ancient and ancestral healing traditions. In a world of mounting uncertainty and unrest, we can all immensely benefit from finding solace, guidance, joy and meaning through deepening our connection to and understanding of the plant world. From the food that we eat, to the medicine we take, to the clothing we wear, and the air we breathe – all aspects of our living being are bound up with the pulse of life that is given expression through the plants.
At Everything Herbal we recognize that our collective well-being and evolution can only taken place through fostering and promoting unity, just as the health and well being of an individual person can only truly be established if the parts that make up the whole function together as one in harmony.
– The Everything Herbal team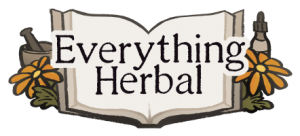 A Note About Our Content:
Everything Herbal maintains an equal opportunity publishing policy. We will always remain committed to the diversity of opinion and the freedom of expression in our professional community. We recognize and honor the fact that practitioners of herbal medicine come from a variety of diverse backgrounds and traditions. There always have been, and always will be, a multitude of approaches to the practice of herbal medicine. This is in large part what makes herbal medicine and plant based healing traditions so exciting, unique, and valuable. At Everything Herbal we strive to learn from and celebrate our differences, with the aim of supporting and promoting the practice of herbal medicine in general.
With a diversity of approaches, there naturally come differing and even opposing philosophical positions and practical considerations and viewpoints. The views of the authors who appear on the Everything Herbal website and blog do not necessarily reflect those of the Everything Herbal staff and team. The views of each and every author that appear on our platform are expressly their own. If readers would like to share their views with respect to any given piece of material found here, they may contact any of the contributors to our website directly by sending an e-mail to hello@everythingherbal.ca with attention directed towards any specific person in the title.
Meet The People of Everything Herbal