September 16th, 2023!
A herbal gathering celebrating healers, herbalists, and plant lovers; starting from the ground up, connecting with ourselves, plants and nature!
Join us for a joyful fun day of learning, sharing, ceremony and entertainment!
Early Bird Admission: $197 plus HST    /   Regular Admission: $225 plus HST  

Where:  The Ginkgo Tree/Kina Gegoo Botanical Sanctuary, Cannington, Ontario
When: September 16th, 2023: 9am to 9pm, rain or shine!
Keynote Speaker: Rosemary Gladstar
Meals: A light lunch and dinner. All the delicious meals are homemade, vegetarian, with gluten and dairy free options. There will also be a tea bar open throughout the day.
SPONSORS:  Everything Herbal, Faunus Herbs, The Ginkgo Tree, Ontario Herbalists Association, Richter's Herbs & Chippewa's of Georgina

Registration [SOLD OUT!]
*please note that speakers/current schedule is subject to change
Welcome to Back To Your Roots Herbal Gathering!
Back To Your Roots (BTYR for short!) is a full day of lectures, workshops, herb walks and foraging alongside live music and performances. Our event is located approximately one hour north of Toronto, at The Ginkgo Tree/Kina Gegoo Botanical Sanctuary.
Registration includes a light lunch and dinner with freshly made, farm to table organic, vegetarian meals with vegan options, including all day organic tea and freshly roasted organic coffee at the Tea Bar.
Apart from a day filled with renowned guest speakers and hands on workshops, local vendors will also be offering their wares and services throughout the day. If you would like to sign up for a vendor booth, head to the bottom of this page for vendor registration info!
Since 2012, Back to Your Roots has brought together budding healers, herbalists, and plant lovers to share their wisdom of herbs, spiritual connection, natural healing, foraging, stewardship and gardening. Though the emphasis at Back to Your Roots is on health, healing and well-being, we are far more than an educational event. This retreat is a joyful celebration of spirit and wisdom, as well as a special time of honouring the Earth and her plant rich being. All are welcome! Come with an open heart, a willingness to share, learn, and celebrate together.
Begin the day with a herb walk and end with a fire dance!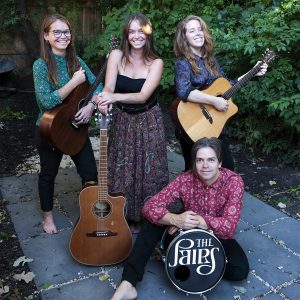 Back again for an Encore!
Family is what ties The Pairs together. With soaring harmonies, they share stories of life's hope, hilarity, and hardship. An honest, quirky stage presence and their unbottled chemistry, quickly connects them with their audience. The line between the stage and the crowd becomes blurred as if we've all pulled up a seat around their family's lively kitchen table. Powered by three classically trained vocalists and a former punk rock drummer, The Pairs offer a unique blend of music that will hug your eardrums and inspire you to dance.
Find out more: thepairsmusic.com
–
---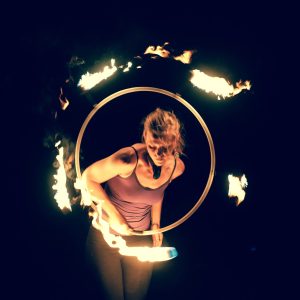 Jessie Zsolt was inspired to begin fire dancing in 2010. For Jessie, dance has always been a medium for soulful expression and communication with others.
Learning how to intimately work with fire guided her in fostering a deep connection with our primal elements.
Performance is a space where she invites others to share in this connection.
–
---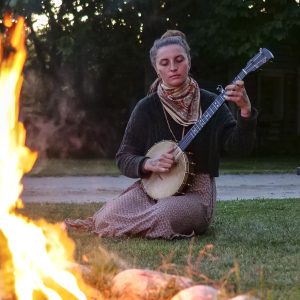 Dayna Pirso is a musician rooted in folk traditions, history, story and song. As a banjo player and percussionist, she has shared music in houses, bars, folk festivals, and on street corners. She shares music that she has been taught from many people during her experiences hitch hiking across the country and travelling in the United States. Performing old time, ragtime and Americana music on her banjo, Dayna Pirso delivers every song with charm and a genuine respect for the tradition of song.
Dayna's Music: Bandcamp
–
---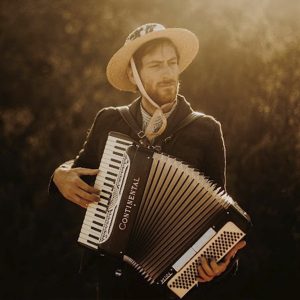 Alexander Jones is a folk musician and artist. His interest in traditional skills and healing has led to his apprenticeship with Penny Beaudrow. When he is not touring or travelling, Alexander splits his time between his home in Texas and in Canada.
–
---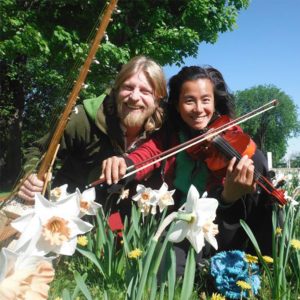 Eric is a Producer, Composer, Multi-Instrumentalist, Instrument Maker, Visionary, World traveler, Founder of "Mandala World Music"; an international ethnic fusion world music group with people from all around the world. His focus is to bring sacred styles of art and instrument together for a new fusion in this multi-cultural world.
When performing he uses live looping & plays over 100 ethnic and modern instruments from around the world with his Electronica Production. He sings in Universal Language mixing ancient tongues and ethnic styles of vocals with modern sound scat poetry. He builds & plays African harps like the Kora & Kamale N'goni.
–
---
A big thank you to our wonderful sponsors who make it possible for us to put on this retreat. Please support them by visiting, purchasing and passing their information along to others. Thank you!
---
Registration and Vendor Registration
Tickets are now on sale for the 2023 Back To Your Roots Herbal Retreat!
All regular registrations include; attendance to all lectures (including key note speakers), workshops, festivities, snacks, tea and coffee bar, light lunch and dinner. (Does not include the two Herb Walks with Rosemary)

Registration [SOLD OUT!]
Pricing:
Regular registration: $225 plus HST – Early Bird Pricing: $197 plus HST
Herbwalk with Rosemary Gladstar: an additional $25 included in a special regular registration bundle
The Ginkgo Tree Herb Course Students: $50 off Registration fee
BTYR Work Study (See Work Study info below): $80 plus HST

Vendors (registration for 1 person) + 1 Vendor space. See Vendor info below): $150

Vendors (registration for 2 people) + 1 Vendor space. See Vendor info below): $230
Vendor Information
Vending at Back To Your Roots is a great way to introduce your business to a large group of plant loving people. We welcome vendors looking to sell plants, herbs, herbal products, art, jewellery, clothing, and more. Our vending space fills up fast, so register today!
Prime time to sell is during registration, meal times, in-between workshops, and in the early evening.

In order to be a vendor at Back To Your Roots you must also be a participant.

Please note that the internet is not to be relied up for mobile transaction apps.

Vendors are responsible for the safety of their wares and money.
Vendor Registration
1 person booth space: $150  (includes 1 regular registration [value of $225], meals & snacks, and vendor space fee)
2 person booth space $230  (includes 2 regular registrations [value of $450], meals & snacks, and vendor space fee)
---
Set Up and Tear Down:
Set up: 8:00am – 8:30am
Tear down: 7:00pm
*By registering vendors agree to have their space set up no later than 9am, and to not take down their booths before 7pm.
Parking will be available close to the vendor area. No cars are allowed to block or stop in the lane.
To register by email to our BTYR Vendor Coordinator, Chealsea, at chelsealise@gmail.com ~ Subject line: BTYR Vendor
Required Vendor Registration information:
Name

Company Name

Address

Email

Phone

Description of Booth Wares
Work Study Registration
If you are hardworking, energetic, responsible and enjoy working 'behind the scenes', you are invited to join our Back To Your Roots (BTYR) Work Study Team. Become one of our worker bees and help make the retreat hum along smoothly. This is a great opportunity to be of help and service as we work together to create an amazing and rejuvenating retreat for all.
BTYR Work Study Team is responsible for numerous jobs that help make the day run smoothly. Tasks are assigned equally and fairly to all and include:
Set up and clean up for the conference (this is a physical work-trade position with some strenuous components)
Conference registration and information booth
Vendor set-up/clean up
Signage
Equipment
Monitoring workshops and intensives
Tea Bar
Lunch and dinner (help prepare, serve and clean up)
There are sure to be additional tasks that will need immediate attention, so flexibility is greatly appreciated. Most of our tasks are accomplished before and after the conference and still leave time for participating in many of the classes during the conference.
All Work Study are expected to stay until the end of the retreat, all work is completed, and Evelyn gives permission to leave. This is generally around 9:30 p.m. but can be earlier or later depending on the year.  With some Work Study Folks coming the day before to set up and some Work Study Folks staying the next morning to help clean up.
---
What we offer our Work Study Team & What is Expected in Return
In exchange for joining our BTYR Work Study Team, we offer a special registration fee of only $80 plus HST, which includes everything included in regular admission, including a light lunch and dinner (regular ticket price $225 plus HST).
Positions are divided into two shifts. Each Work Study participant must be available; either: Friday morning at 11:00am (set up) and Saturday 8:00am – 9:30pm (event) or Saturday 8:00am – 9:30pm (event) and Sunday morning approx till noon (tear down). Be prepared to work 7 – 10 hours over the course of the event. All Work Study participants must take part in a zoom orientation, which will be held prior to our event. All Work Study participants signed up for the Friday and Saturday shift must be at the farm by no later than 11:00am on Friday, September 15th, in order to begin orientation promptly and begin your designated task(s). Please note: If you're unable to commit to either of these durations, unfortunately you will be unable to participate in our Work Study program.
As part of the Work Study Team, you may select in advance, two (2) workshops that you have your heart set on attending. We will do our best to work your weekend responsibilities around one of those classes. There is ample free time to attend additional workshops, too.
Work Study Meals at BTYR: We are providing all Work Study participants a light, lunch and dinner on Saturday, including all day Tea Bar.
Because we depend on our Work Study Team, as a measure of your commitment, we request the Work Study registration fee of $80 plus HST paid in advance. We are unable to hold your space until your registration and payment is received. Registrations are taken in order of receipt until the 15 Work Study positions are filled.
We look forward to connecting with all of the amazing participants who are considering joining the BTYR Work Study Team and help make Back To Your Roots an especially amazing and rejuvenating retreat.
To register, email to our BTYR Work Study Coordinator, Evelyn at hello@theginkgotree.ca ~ Subject line: BTYR Work Study
Required Work Study Registration information:
Name
Address
Email
Phone
My heart is set on Attending: Workshop #1
My heart is set on Attending: Workshop #2
Contact us
Please feel free to contact us if you have a question or concern about the event:
---
Founder and Event Organizer:
Penelope Beaudrow
Event Co Ordinator:
Evelyn Mueller
Assistant Event Co Ordinator:
Chelsea Vierra
Assistant Organizer, Photographer, Webmaster, Graphic Design:
Serena
---